Broadband Usage Levels
There are different broadband usage levels. We talk about them.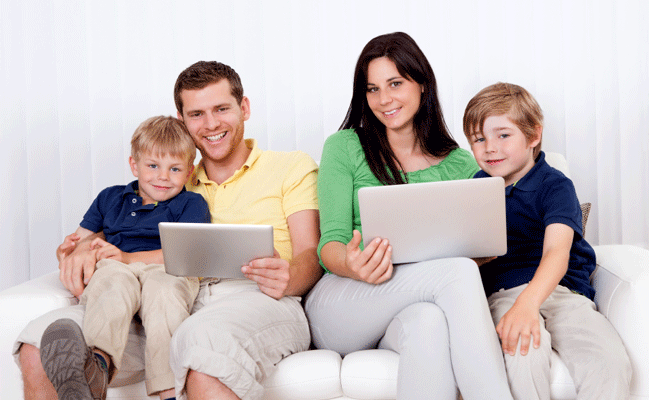 What are usage levels?
Any time you get a web page to load, download a song or stream, you are downloading information. All the images that appear on a newspaper's website, content you read or videos you play all require the download of information. Some people live on the web, whilst others poke it nervously with a stick, so when you choose your broadband package it's important to recognise how much downloading you do. Choose between light, medium and unlimited downloads, and make sure you get a package which is fast enough for what you need.
Light
Light packages are designed for those who use the internet infrequently and for quick tasks such as sending and receiving emails, instant messaging and online chat. Light packages are typified by ADSL connection speeds of around 8-16Mbps, with a monthly usage allowance of anything up to 10GB.
Medium
Medium packages are good for those seeking a faster connection speed and greater download allowance, but don't necessarily need a top-end package. Medium packages generally include maximum downloads of 10-40GB, or more. These packages could be ADSL or fibre-optic, meaning a range of options for speed are available.
Unlimited
Unlimited packages are for those who see uncapped downloading as a top priority; this could be the avid online gamer or a film fanatic streaming movies daily. The unlimited usage is often subject to terms of a fair usage policy, or restricted to certain times of the day, so check the details first.
You would usually find that unlimited downloads are offered with the fastest packages, particularly fibre-optic broadband, but some slower packages will also offer the same uncapped monthly usage as part of the deal.
How many downloads?
Below is a list of usage limits, and a rough estimate of how much that limit could give you for songs, albums or HD films:
10GB per month Songs - 2,000 Albums - 180 HD films - 2
20GB per month: Songs - 4,000 Albums - 360 HD films - 4
40GB per month: Songs – 8,000 Albums - 720 TV/Film - 8
PLEASE NOTE: This is a rough estimate, and is based on only downloading one of the three file types. If you download songs, whole albums and HD films all in a month, then the number possible for each would obviously decrease. Even the size of an HD film can vary dramatically, depending on the type of high definition. These figures are based on an HD movie file size of 5GB, but a 1080p film could be double that.