iPad and Mobile Broadband
Get broadband whilst you are, like, moving around outside, and stuff.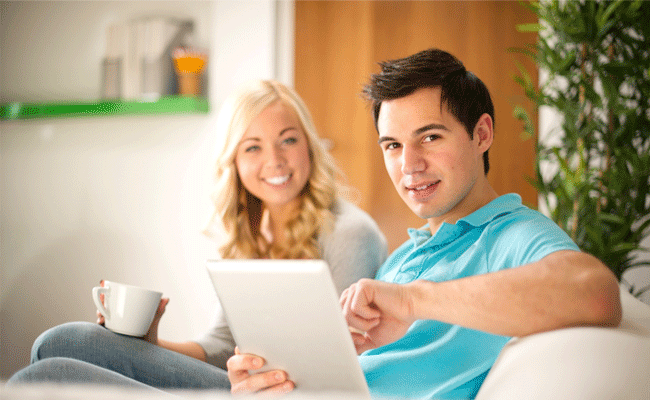 The Apple iPad
The Apple iPad has, for a long while, been a revolutionary step in web-connected, mobile technology, with a sleek, lightweight design and mesmerising functionality that has changed the way we think about portable computer systems. With the continuing popularity of the iPad and effect that the iPhone has had on millions across the globe, Apple is still one of the best places to find smart devices that work online, no matter what you're using them for.
Features and facts
The newest version of the Apple iPad boasts crystal clear display detail thanks to the 9.7-inch Retina display. It's perfectly sharp and crisp, whilst the A10 chip delivers fast, fluid, breathtaking performance. Apple has custom-designed the chip, and as a result we can enjoy an extraordinarily powerful, yet extremely efficient, tablet computer that delivers the goods for games, apps, streaming and downloads.
It also has plenty of storage space for photos, movies and music, and outstanding battery life. There is 1080p support for true HD video playback, the capacity to upgrade the iOS and a dual-core M10 processor under the hood. The iPad is no larger than a magazine, and the new models measure just over 7.5mm in thickness, so this next generation device has the essential size and portability that is needed for today's tablet technology.
Users can purchase models with 32GB or 128GB of storage space. As for internet connectivity, the latest iPad is ready for 4G, allowing for superfast mobile web speeds. This means faster downloads, video streaming and general web browsing.
Broadband and iPad deals
The iPad demonstrates some of the latest innovations in tablet technology, so the price tag is appropriately steep. However, many of the big networks are looking to provide an affordable alternative to upfront purchase, offering customers iPad and mobile broadband combo deals instead. With an iPad and mobile broadband deal, you can pay a reduced upfront cost for Apple's popular tablet computer, and then pay a monthly fee that covers your mobile broadband allowance.
Mobile broadband provides built-in limits, and users can choose from a range of different deals for data, with the choice depending on the user's own download and web browsing requirements. By combining the iPad with mobile broadband, users are looking at a cost-effective way to purchase this leading tablet computer whilst enjoying generous data allowances and extras from the mobile telecoms providers.
You are simply spreading a large portion of the iPad cost over several months, which will vary depending on the agreed contract minimum term. A shorter term will require higher monthly payments, but many deals are spread over 24 months to allow for a realistic payment plan.
Compare packages
When comparing the deals, you will want to know potential download speed, which is quoted in Mbps or Megabits per second, as well as download allowance, contract length, monthly cost and upfront payment. These will all be clearly highlighted in order to give you a clear and concise set of results. The deals can change regularly, so keep an eye on them, and make sure you take into consideration your own realistic needs for broadband usage.
Mobile broadband is a great way to get internet on the go, whilst the iPad is an exciting benchmark in tablet technology. Combining the two will provide you with an innovative, affordable and entertaining way to enjoy portable web access.