Routers vs dongles
We hurl routers and dongles into the ring together, and observe the frantic results.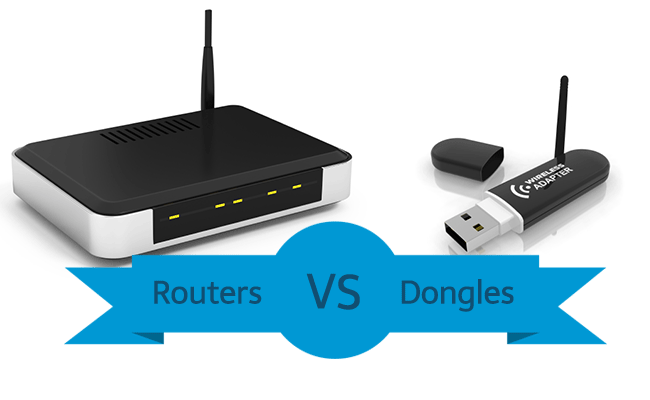 What is a router?
To get fixed line broadband, a router is used to keep data flowing from the cabinet to the devices it's connected to.
The nifty piece of technology is able to connect multiple devices to a broadband connection; however some basic routers just link to one computer and a phone line (although this only applies to old fashioned routers).
What is a dongle?
A dongle is a USB device that has a built-in broadband data allowance that can be used wirelessly, when it is plugged into your computer or tablet's USB port.
Whenever you are in range of a 3G or 4G connection, depending on the dongle you have, you will be able to browse online and make use of your monthly download allowance.
Connectivity
There's nothing more frustrating than browsing on your favourite social media network and then the connection fails, which is something we've all had to accept happens from time to time.
A router provides a secure connection from the cabinet to your smartphone, laptop or tablet and it remains connected barring any technical issues, such as a fault in the router or a problem with your local exchange. Some routers come with a massive data allowance, such as 2GB or more, and this means you have plenty of usage available to you.
Of course, dongles can also fail, especially when they are out of range of a 3G or 4G signal; 3G is widely available around the UK, with the 4G rollout ongoing, so you could be limited on connectivity depending on where you are. Data is also an issue, because dongles only have a limited amount of data available to users and you won't find a package which offers unlimited browsing. Once your allowance has been used up, you can either top up your dongle or, if you're on contract, wait until data is renewed for the next month.
Broadband Speeds
Broadband speeds vary depend on location, along with a range of other external and internal factors, so we can only go by the average UK speeds when it comes to comparing.
Download speeds are always advertised as 'up to' for both dongles and routers. Each broadband provider offers different speeds, which is why it's always recommended to have a browse through packages to find out what speeds are available in your area.
With your router, the strength and download speeds depend on how far away you are from your local exchange, and your web-connected device, local traffic and quality or router can all affect speed. If you're unsure on how fast your connection is, there are various speed test services available online.
Dongles also act the same say; the stronger the 3G or 4G connection, the faster the speeds. However, because mobile broadband links many people to the same network, in busy periods, you will almost certainly find download speeds slower than normal.
Benefits
At home, you can be automatically connected to your own personal broadband, with a decent amount of data or unlimited usage. You can sit back and enjoy a movie from Netflix or spend time catching up with friends on Skype.
Most routers also come with a Wi-Fi code, where you can connect more devices to the router, giving it full marks for convenience. Depending on what package you purchase, you could be given a certain data limit per month which could hinder your downloading and streaming activities. Routers also offer a secure connection, so someone else cannot get online with your service, and this has great security benefits.
Dongles on the other hand come as they are, preloaded with data so you can browse the web on the move. Plug it into a USB port and you'll be online in seconds. Just make sure you're in range of a 3G or 4G signal, because without that you'll get nowhere. Once you're online you can wirelessly browse websites, update your social media pages and instantly message friends.
However, high download activities, such as watching video, streaming and saving music files can put a strain on your data allowance, restricting what you can do online over the month. 3G and 4G networks are also communal, therefore not as secure as receiving broadband from a fixed line and through a secure home network. Make sure you log out of all personal online accounts before disconnecting.
Routers vs dongles: Verdict
We feel both routers and dongles are convenient in their own ways, when it comes to connecting to broadband.
Routers are secure, fast and offer unlimited usage (as long as your home broadband package does as well), and they have the ability to connect multiple devices to the same network. Once a gadget is linked to the WiFi network, it will automatically connect when you're in range, leaving you to freely browse away whenever you fancy.
Dongles on the other hand are smart, discreet and portable, getting you online when you're on the go or when need to send an important email. The dongle may not provide a huge amount of data to stream or download, but they provide a convenient alternative when you need broadband access and are away from home, and you can save money through the absence of a landline.