Choosing the best business broadband
Whether you're a huge corporation or a small team, our guide is here to help you choose the best broadband for your business.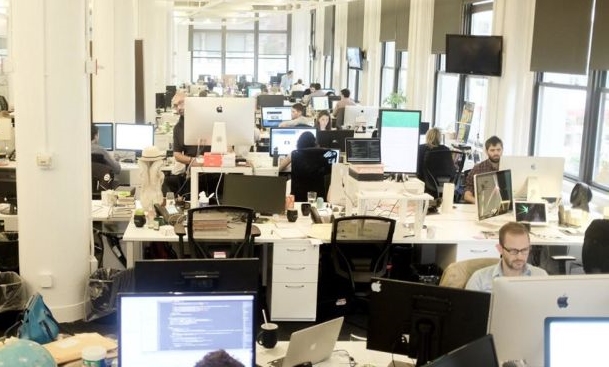 Business Broadband: Speed
It's important that the broadband you select is quick enough to handle the workload you present it with, so consider the size of your company and what you'll mainly be using the internet for.
There's no point opting for a smaller amount of broadband with very limited upload and download speeds if you've got a lot of employees constantly engaging in bandwidth heavy activities, as you'll just find that your connection just becomes sluggish and unable to really load anything properly.
Bear in mind that although ISPs do advertise a certain maximum speed, it's unlikely that you'll always (if ever) be able to achieve that speed. Some like BT and TalkTalk however have taken steps to try and get you there by acting to prioritise business traffic over residential.
EE and Plusnet have both admitted to throttling broadband traffic during peak times, so evenings and weekends when everyone's free from work or school, which could potentially have an effect on your connection speed depending on the business hours you keep.
It's also worth checking the kind of broadband that you're able to receive in your area as there are some places around the UK which can't access a fibre connection. You don't want to end up paying for a service you won't actually be able to use!
Business Broadband: Service Guarantee
It's always immensely irritating when your businesses broadband goes down, but a service guarantee can help to soften the blow.
A broadband service guarantee states that if an engineer isn't called out to repair your company's internet within the period of time agreed in your contract you'll receive some kind of compensation.
It will vary significantly from provider to provider on just what that amount of time is, how much you're entitled to per day and how you receive that compensation (BT for example, can either pay you in cash or take the amount off your next bill) so be sure to always read the small print.
Business Broadband: Security and Support
Since internet security is such a crucial aspect of business broadband many ISPs will either include a security package as part of the original deal or offer to sell you one for a small extra fee.
Most of these security packages contain the same simple but highly effective protective measures like anti-virus software, a network-wide email screening service to filter out spam, the ability to block any site which may be hosting malware and a firewall designed to intercept malicious attacks.
So the decision on which ISP to go with will really come down to cost, if what they're offering is actually compatible with your devices and the kind of technical support that's available.

Any monthly fee that you do have to pay won't be any amount that's going to really break the bank (both BT and Plusnet for example, require you to pay under £5 a month) so if you like the rest of what's being offered, it makes sense to go with that ISP's service.
Compatibility shouldn't be too big of an issue for the majority of users but it's something worth bearing in mind when you're shopping around for a purchase, especially if you're using an Apple Mac over a PC.
As is the UK standard, all ISPs offer some level of technical support with their business broadband. This can range from simply a UK based phone line that's available 24/7 like TalkTalk or Virgin Media to the enhanced UK based IT support from BT who're able to remotely take control of your computer (with permission of course) in order to quickly and accurately take care of your problem.
Business Broadband: Extras
ISPs will either include or give you the opportunity to purchase a number of incredibly useful business extras alongside your new broadband service.
It's definitely worth taking the time out to have a look at these various extras as they could help to set one ISP's offer apart from all the rest and even potentially save you money in the long run.
For example, with TalkTalk you're able to get one static IP address, a line installation and a transfer of all your services to a totally new office for free but with BT, you'll receive 10 email addresses, Microsoft Office 365, 1TB of cloud storage for your documents and access to anyone of the BT wi-fi hotspots across the UK for free.