What is satellite broadband?
We take a look at getting home broadband… FROM SPACE!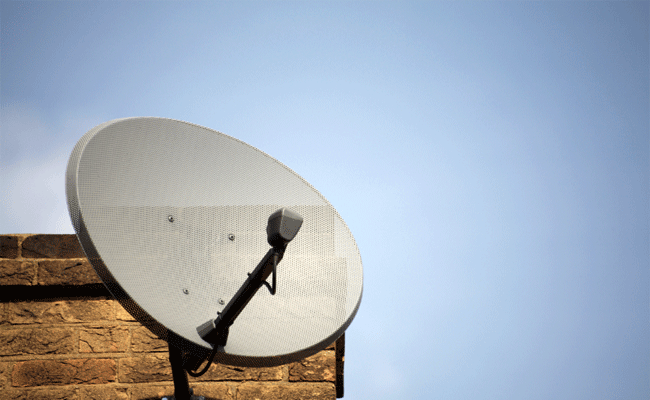 What is satellite Broadband?
Satellite broadband is hardly a common choice in the UK, with most providers offering either ADSL or fibre, or both, because at least one of these two options is available to most. However, those living in rural areas can still find themselves without even a slower copper line connection.
How satellite broadband works
Luckily, we have invented satellites and sent them into orbit. Satellite broadband, as you may have guessed, uses a satellite to provide broadband to the home. As the customer, you would have a receiver dish mounted on your home, as with satellite TV, as well as a modem.
Satellite broadband accessibility
One of the major advantages of satellite broadband is its universal accessibility; you could live in the middle of city, on a remote island or up in the hills, and be able to get access to this type of broadband. As always, however, there is a small catch, in that you do need to have a clear view of the sky. So if a group of massive trees loom over your house then you might have difficulty.
Satellite broadband speed
Make no mistake, you aren't going to get broadband speeds anywhere close to a fibre-optic connection. It is, for all intents and purposes, the absolute overlord of internet connectivity.
However, things have greatly improved for satellite broadband, and providers are now offering maximum download speeds to rival ADSL, so up to 20Mbps.
Bearing in mind maximum satellite broadband speeds once sat at a fairly uninspiring 1Mbps, this is a welcome step up.
The effect of external factors
As with its copper line cousin, satellite broadband is susceptible to external factors, and these will affect your connection speed and performance.
Whilst ADSL is affected by local traffic as well as the distance of a user's house from the exchange, satellite broadband is at the mercy of the weather, and should you live somewhere with particularly hideous and unpredictable conditions, then it might be a problem. Awful weather can, and will, knock out a signal, despite the durability of the dishes themselves.
It can also be affected by mischievous foliage, which can drop rain water onto your dish and cause more problems. You may need to regularly trim plant life, but that won't stop the snow, heavy rain and high wind wreaking havoc.
Satellite broadband cost and value
Satellite broadband is, unfortunately, pretty costly, especially when you factor in the mammoth set-up and hardware costs. Even the smaller packages, with less data usage, still come at a comparatively hefty monthly price, and you are usually looking a long-term contract, so should fibre become available to you six months down the line, you are stuck with the slower, less value satellite broadband.
Is satellite broadband the right choice for you?
It is simply down to your location and requirements; if you can't get an ADSL or fibre connection, but want broadband, then it's something you'll probably want to consider. But, equally, remember that a fibre rollout is ongoing, and it's worth checking with providers whether your area is in line for improved connectivity in the future.
You will have to pay out a fair bit for satellite broadband, so make sure it's the best option available in your situation, and compare broadband to see a full range of different broadband types and deals on offer.