What is 5G?
The fifth generation of mobile internet offers lightning-fast speeds and incredibly low latency.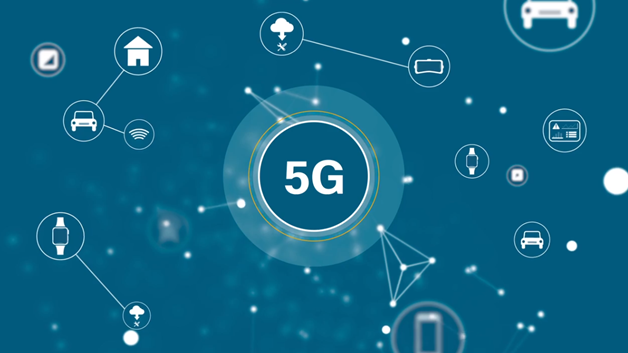 After months of discussion and mounting hype, 5G is now officially live in some parts of the UK.
If you follow technology or mobile phone news at all, you've probably heard all about how its set to provide amazingly fast speeds and allow for the widespread use of technology like smart homes and self-driving cars.
This guide will run through 5G's advantages and disadvantages, the kind of speeds you can expect and where it's available so you can decide if it's worth upgrading to.
What is 5G?
5G is the next-generation of wireless mobile broadband. It's the successor to the current 4G standard offering significantly faster, more reliable download speeds and much lower levels of latency.
How fast is 5G?
5G services are now live in parts of the UK but because the technology is still in a relatively early stage and not yet capable of working to its full potential, it's difficult to say for certain exactly how fast it'll be.
Users of the live 5G mobile networks and home broadband subscriptions from EE, Three and Vodafone have reported receiving speeds of between 100Mbps and 300Mbps. While that's nowhere near the kind of speed 5G will be able to offer in the future, it's still so much quicker than the UK's average 4G connection which tends to top out around 20Mbps to 30Mbps.
Technically speaking, 5G is capable of reaching a lightning-fast top speed of between 10Gbps and 20Gbps. It's unlikely that you'll receive anywhere close to that day-to-day however, as speeds are heavily impacted by factors like which device you're using and how crowded the network is.
Experts predict that 5G speeds will increase to up to a still very impressive 1Gbps over the next few years, with an average of 3Gbps and 5Gbps likely in the future.
Where is 5G available?
Providers EE, Vodafone and Three have all successfully launched their 5G networks in the last couple of months with O2 soon set to follow suit in October 2019. As to be expected, it's the UK major cities who were the first to benefit.
EE's 5G network went live on 30th May 2019 in selected parts of London, Birmingham, Manchester, Edinburgh, Belfast and Cardiff. Ten more cities including Leeds and Glasgow will become connected in the rest of 2019 with Aberdeen, Southampton and another eight set to follow across 2020.
Vodafone switched on its 5G network on 3rd July 2019 in selected parts of London, Bristol, Birmingham, Cardiff, Glasgow, Manchester and Liverpool. Six additional locations like Wolverhampton and Plymouth went live on 16th July with a further seven due to be connected by the end of 2019.
Three began offering its 5G services to certain parts of London including Clapham, Tooting and Vauxhall on August 19th 2019. Plans are in place to expand to another 25 locations by the end of 2019, the most of the three providers.
What are the benefits of 5G?
Reliable gigabit download speeds and an incredibly low amount of latency are the two main benefits of 5G.
Such drastically improved speeds means you can download files in a flash and load times will practically be non-existent. On-demand and live streaming will be much smoother and you'll be able to enjoy a glossy, crystal clear 4K resolution anywhere.
5G also boasts an increased data capacity resulting in it being able to support a larger volume of devices, so you can catch-up on Netflix on your commute home without having to worry about poor quality public wifi or make your friends jealous by posting on social media during a crowded concert.
Latency is defined as the time it takes the data from your device to reach a secondary source. It's crucial in activities like online gaming where success hinges on quick response times.
Theoretically, 5G can offer a latency as low as 1ms, compared to 4G's average of 50 ms, which could potentially cause major advancements in cloud computing, smart homes and self-driving cars.
What are the cons of 5G?
The potential for a slow rollout and the current higher costs involved are the two biggest cons of 5G.
5G signals are broadcast around using a very high frequencies which unfortunately have incredibly short wavelengths. This means that 5G signals aren't able to travel very far and considerably more transmitters are required to build an effective network.
Putting in more transmitters takes more time which in turn could affect the speed of the rollout. If 5G takes a while to completely cover a major city, then it'll be even longer before it reaches the UK's many smaller, rural towns.
Some also fear that shorter wavelengths will see 5G signals struggling to penetrate walls effectively or be easily stopped by obstacles like trees and cars.
5G smartphones and home broadband subscriptions are currently quite expensive, but this should start to change as the technology becomes more widespread. If you want a 5G smartphone you'll have to opt for a premium flagship, there's no mid-range or budget option available just yet.
Data caps can also be an issue for 5G especially if you intend on using it for bandwidth-heavy activities like 4K streaming or VR gaming. Activities like these can very quickly burn through an allowance so you might have no choice but to purchase an unlimited data plan which is usually the priciest option.
How can I get 5G on my smartphone?
To be able to access 5G on your smartphone you'll require a 5G device. There's already a decent selection available including the S10 Plus 5G, One Plus 7 Pro 5G and the Huawei Mate 20 X 5G but unfortunately, none of these come cheap.
Your 5G smartphone should automatically connect to a 5G network once you reach an area where it's live. If at any point the 5G signal drops, it'll revert straight back to using 4G.
What kind of 5G home broadband subscriptions are available?
EE, Three and Vodafone offer a mix of unlimited and capped 5G broadband subscriptions with different contract lengths. EE's are fixed at 24 months while you can take a more flexible 30-day rolling contract with Vodafone or Three.
All come with a 5G router which thankfully doesn't require a landline or a visit from an engineer to set-up. You just simply plug it into the mains and insert your chosen SIM card to get started.
How much does 5G home broadband cost?
5G broadband subscriptions with unlimited data will always be more expensive than those with a data cap. Depending on your usage habits, it might make sense to just pay the extra.
EE, Vodafone and Three provide a good selection of subscriptions with monthly prices ranging from just under £30 to nearer £80 so you'll easily be able to find something to suit your budget.
In some instances you'll also have to pay an upfront cost but exactly how much really varies from provider to provider.
Is it worth upgrading to 5G now?
5G has many fantastic benefits so it's definitely worth considering if you're really keen on using it. Those who aren't too fussed about having the latest technology however, might do better to hold off upgrading to 5G for the moment.
The fact that it's still so new means it's not quite working at the highest standard yet. Waiting a little while gives provider's a chance to strengthen the capability of their network for more reliable speeds, extend coverage out to more cities and devices to come down a little in price.